Bhagavan Sri sadguru Nityananda Gurudeva's Biography in a Nutshell
In between 1905-1906 this rarest of rare baby was born in Kerala State. None knew about the parents of this baby.
Normally the birth of a Yogi or an Avatar would be a mystery. As dreamt by the couple chatu Nair and Unni Amma a coolie family of Tuneri Village of Kallikote district of kerala, this divine child was found on their way to Ayyappa Swamy temple.  They nourished this child therafter.
A famous Brahmin advocate by name Ishwar lyer of Kozikode district, a Suryopasak (worshipper of Sun God) brought up this child further naming him as 'Raman'. When one day this foster child gave darshan to Sri Ishwar lyer as 'Suryanarayana' pouring ananda (bliss) on him he exclaimed thus: ' You who have given me Nithyananda is veritably ' Nithyananda' (person of eternal bliss). Thereafter, he was called by one and all as Nithyananda.
He is reported to have performed thousands of miracles giving relief to the grief stricken devotees and liberated them from mundane bondage. Atheistes considerd him as a lunatic. Don in a langota he performed quite number of miracles. These and the services rendered to the mankind by him at Kanhangad(Kerala), Karnataka , Burma , Malaya, Srilanka, Himalaya etc., aren't found in the pages of history. It is said that perhaps, he came to Udupi and Kollur during 1920-30 decade. In the last 25 years of his life, he stayed at Ganesh Puri of Mumbai, constructing Asharm School, Hospital, temple, roads, Hot water Kunda (Pond) etc., and thus developed that Place while uplifting the devotees. He attained Mahasamadhi on 8.8.1961.
Shri Sadguru Nithananda Gurudeva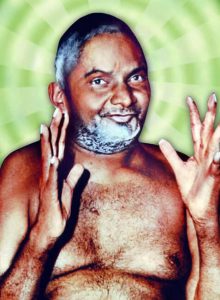 Know more about